Stainless Steel Child-Safe Chain
It is desirable to take the high-safety measures for the equipment of the facilities for children, for instance, playgrounds, amusement parks, preschools, etc. MIZKEN INC. recommends our stainless steel "Child-Safe" Swing Chain as one of the high-safety measures for such facilities.
We have perfect confidence in safety of this "Child-Safe" Swing Chain. Firstly, our complete-welded stainless steel link chains have high tensile strength. And moreover, in order to prevent such unanticipated accidents that a child gets his/her finger caught before they occur, each links of this chain is filled with aluminum filling, which doesn't impair the function and the appearance of chains. 
In addition to safety, our stainless steel "Child-Safe" Swing Chain has designability. To match the equipment or the place that you intend to use this chain, we have created colored aluminum fillings besides plain aluminum filling. You can choose the aluminum filling color from 5 color options: Plain, Yellow Gold, Blue, Green and Pink Red. 
Our stainless steel "Child-Safe" Swing Chain is sold on a per-meter basis or on a per-link basis. Please specify the item code, the filling color, the length per piece, and the quantity you require to get our quotation.  We quickly send you our quotation by return. Please read Safety Precautions before using our products.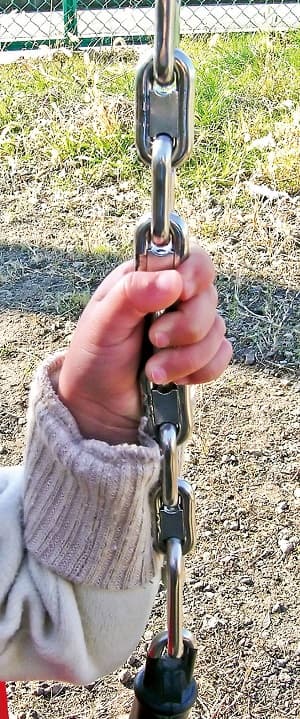 AVAILABLE: by the meter / by the link
MATERIAL: 304 Stainless Steel (Chain) and Aluminum (Filling)
FILLING COLOR: Plain / Yellow Gold / Blue / Green / Pink Red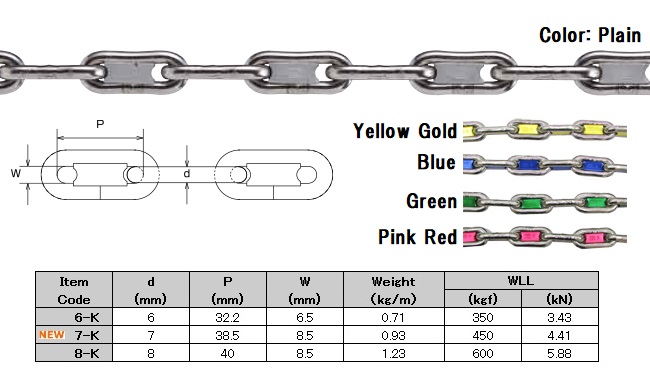 Please note that actual colors of the aluminum filling may be different from ones in the above photo.